Written by Lisa Joerling – Brains for the Cure Ambassador and Ganglioglioma Survivor
In the 7 years since I've been diagnosed with a large and rare brain tumor called a ganglioglioma, I have become much more comfortable sharing my story with others. I was 19 years old and a sophomore in college when I was diagnosed after my right side went numb and I went to the ER. It was a shock and an even bigger shock when the doctors told me it had been most likely growing slowly for more than 10 years. After I had an awake craniotomy to remove the tumor the doctors told me I would be having MRIs every 6 months to follow for regrowth. In 2018, my MRI showed a small change which the doctors believe could be a tumor. We are monitoring this change as it appears to be changing very slowly.
I got involved with Head for the Cure a year after my surgery. I had always enjoyed 5Ks and wanted to help support this cause. My family and I registered for the 5K, but I didn't want anyone to know I was a survivor so I skipped that part of registration and blended in with the sea of blue shirts that year. I look back on that year and laugh now because little did I know how important this cause and Head for the Cure would become to me.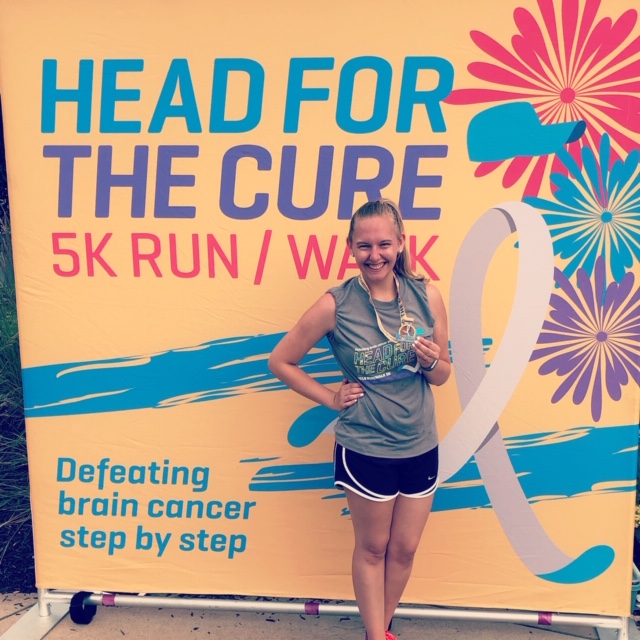 Being an Ambassador for Head for the Cure and Brains for the Cure has allowed me to share my story with people who understand what I am going through and it has given me a platform to help others in this situation. My advice is, to be honest, and communicate what you're dealing with. Everyone's story is different and you will learn how, when, and who to share it with. I have always been fairly open with everything I've been through, being diagnosed with a brain tumor, having awake surgery, and living with the watch and wait scans is a huge part of my life. I want people in my life to be aware of everything that comes with managing that both physically and mentally. I think I realized about a year or two in that this was not something I could just put behind me and move on. As my doctor put it, this will be a lifelong management issue.
I've been very blessed with family, friends, and coworkers who have supported me and been understanding with the appointments, stress, joy, and everything in between that comes along with this. I'm at a point in my life now where my friends and family know my story, what I'm dealing with, and when new people enter my life I let them know when the time is right. It could be around when I have a scan or the anniversary date of my surgery when we have cake and celebrate another year. When and how to share your story is uniquely personal to you. People in your life want to support you and it's something you should be proud of that you are achieving each day.