Written by Molly – Brains for the Cure Ambassador and Astrocytoma Survivor
Brain tumor survivorship is weird. Depending on a tumor's location, your deficits vary. In my case, mine are mostly invisible to a casual observer. I imagine a stranger might think, "Aw, she's nice but a little scatter-brained, don't you think?". My tumor was the size of an avocado pit in my deep left temporal lobe. It was mostly resected, but as rogue astrocytes go, it had tendrils. Reoccurrences are likely in my future. So it goes. I'm approaching six years in the stable zone. I am grateful. I know that I am lucky to be where I am, how I am right now. I can speak, and I do. I'm very chatty, even when I'm swirling whirling dervishes of Damascus with word-finding skills. I can still walk and run and lift heavy weights. It is a privilege. I know this.
And, yet… survivorship. It's a very strange place to be. The further one goes into the years of being stable, without reoccurrence, the more frequently I'm looking into my rearview mirror. I want to be ready. I don't want to be usurped or taken by surprise. I want to be as ready as possible with the un-ready-able. Like anybody, I'm still scared. I don't act scared. I don't appear scared. But I'm always a little bit scared. And I'm tired. I'm really, really tired. My brain is so tired.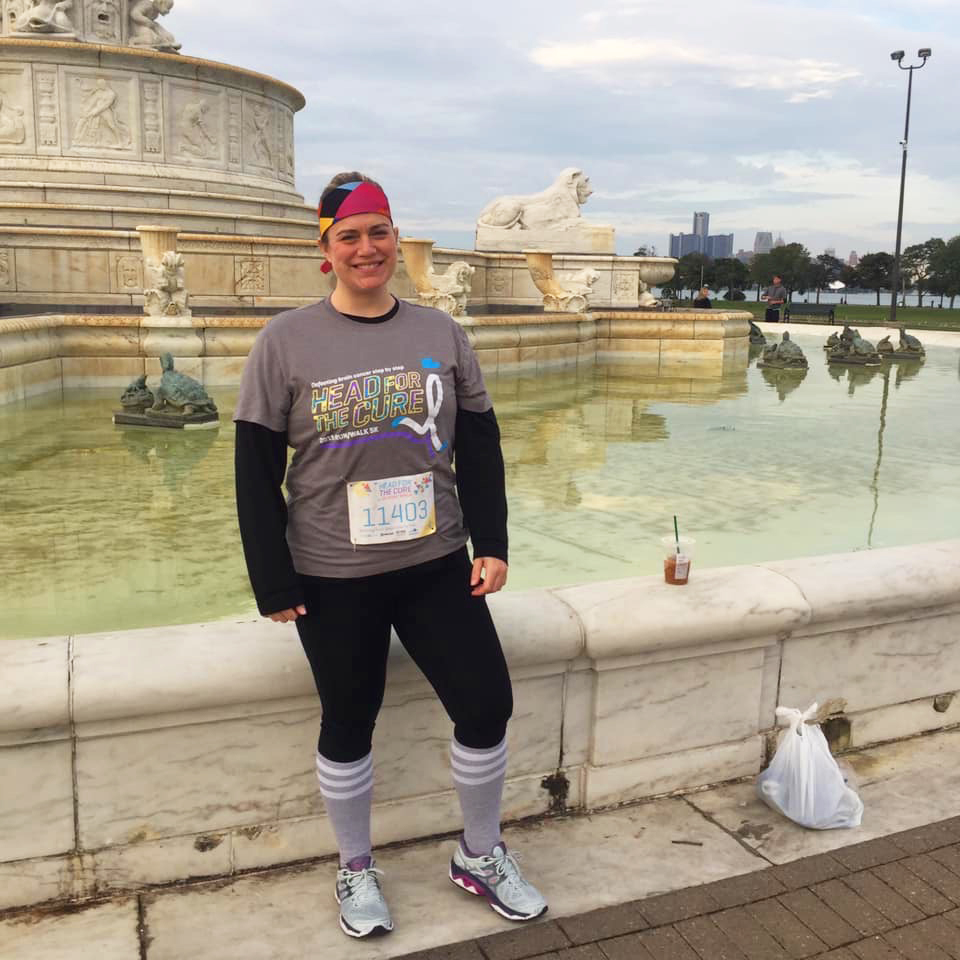 It's difficult to explain to people how brain cancer fatigue is different. A lot of people will mention "chemo tired" and while that may well be a thing—neuro fatigue is a different bag of beans entirely. A few barbell deadlifts or a 5K run don't exhaust me. That's the refreshing tired one's body feels. Neuro fatigue is a black eclipse of my think-box, my brain, my speech, my words, my memory. A tiredness so heavy I must have an exit strategy handy immediately. It hits sudden and hard. I often can't even predict its arrival. The last time it struck me at an awkward time I was meeting a long-time friend for a coffee. We chatted for an hour or two when I was suddenly hit with extreme fatigue. I couldn't finish my sentence, I simply said, "I'm so sorry, I have to go home. I have to sleep."
Being a bit self-conscious, I know it must seem strange, but when I have to go I HAVE TO GO home. NOW. If I get that alert suddenly, it's almost already too late. If I had a long drive I might have to call for assistance. As always, it is what it is.
I've said before, I'm lucky. My survivorship hardships haven't been brutal so far. They are small challenges in the grand scheme. And I'm at a place in survivorship where I'm hyper focused on parts of my health that may not have anything to do with my brain cancer, or maybe side effects of radiation/chemo; PCP appointments, orthopedic appointments, dermatology, mammograms, etc. It seems like certain deficits are the long-hauling kind. They don't hit you at the start. They hit you down the road; hearing issues, vision problems, fatigue level, anxiety/depression, etc.
And then there has been the fight to keep my SSDI and learning how to keep up with consistently documenting long-term and permanent brain issues. Since my initial tumor discovery, surgery, treatment (radiation/chemo), regular MRIs – I had become complacent. My medical team and I seemed to have a pretty chill camaraderie. I knew how to read my feedback and my survivorship journey was in the neutral place. Where I finally felt like I could approach life once more as a "normie." I took tap dancing lessons and started Olympic lifting (not the actual Olympics, it is a type of weightlifting). I started a fundraiser for my hospital's brain tumor center and cancer survivorship. I was definitely in a good mental place or as they say… "living my best life."
But like all good things, it started to come to an end. Or another fork in the road—SSDI cancellation. "We see that you are healthy now," basically. So then I begin the whole, "No, no. I am not fine. I am the same as before, even beginning a slight decline…" Which is difficult to go through…again. The tests, the appointments, the neuro-oncologist's essays describing your MRI results, another neuro-psych evaluation proving that while you are in some ways functional, you are very not functional in other ways.
Long-haul survivorship is hard work. We don't become immune to deficits. Survivorship is a gift that comes with expected, and often unexpected burdens. But life is like that regardless. Burdens can be gifts in surprise. There's no way over it but through it. And so I say, ever onward we go. Ever, ever onward.