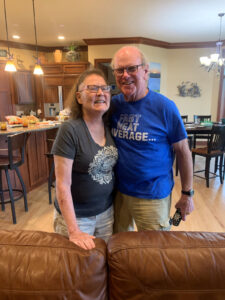 In the age of digital connectivity and social media, the internet has become an invaluable tool for providing support and staying connected, especially for patients and their caregivers. CaringBridge is a remarkable platform that has emerged as a beacon of hope and support, offering a space for patients and their loved ones to share their health journeys, express their emotions, and provide a sense of community.
CaringBridge has many benefits for patients and caregivers, emphasizing the ways it facilitates communication, fosters emotional support, and strengthen relationships during challenging times. CaringBridge is essentially an online journal that allows patients and caregivers to document their health experiences in a private and secure environment. This platform is particularly beneficial for those facing chronic illnesses or long term hospitalization. Below, we will detail each benefit, along with providing real feedback from Head for the Cure Ambassador, Ed Bishop, who used CaringBridge every day for over 950 days throughout his wife, Shelley's brain cancer journey.
Information Central: CaringBridge serves as a centralized hub where medical updates, treatment progress, and important news can be shared with concerned family and friends. This keeps everyone informed, reducing the need for repetitive individual updates.
When asked if Ed found CaringBridge to be helpful he said, "Immensely. It was a way for friends to keep abreast of Shelley's progress, and a way for friends to interact with us."
Two-Way Communication: Patients and caregivers can post updates and receive messages of support from their network. This encourages an ongoing dialogue, enabling a sense of connection that might not be possible through
other communication channels.
"We had finished treatment and were going into a lull, and I announced I was going to stop entries until something changed. I got immediate responses that our friends looked forward to hearing about Shelley and they told me not to stop so I didn't. I looked forward to comments I received from friends." – Ed Bishop, Head for the Cure Ambassador
Fostering Emotional Support:
The emotional toll of illness can be overwhelming for patients and caregivers. CaringBridge provides a platform for sharing feelings, fears, and hopes, which can be instrumental in managing
emotional well-being.
Therapeutic Outlet: Writing about one's experiences and emotions can be a therapeutic process for patients and caregivers. It can help them cope with the stress of illness, offering a sense of release and empowerment.
When asked if CaringBridge helped Ed Bishop cope, he responded "At first it was just to keep our friends informed of Shelley's disease and how she was doing with treatment, etc. It turned into therapy for me as I wrote an entry every day for over 950 days. I included funny things Shelley or one of our animals did and a list of jokes I found on the Internet."
Virtual Support Network: CaringBridge offers a support network that extends beyond the physical constraints of geography. Friends and family from around the world can offer encouragement and love in real-time, helping patients and caregivers feel less isolated.
Strengthening Relationships:
One of the often-overlooked benefits of CaringBridge is its capacity to strengthen relationships during challenging times.
Family and Friend Engagement: CaringBridge can rekindle relationships and strengthen bonds between patients, caregivers, and their support network. Friends and family feel more involved and connected when they can actively
participate in the health journey.
Gratitude and Perspective: Sharing the ups and downs of a health journey on CaringBridge can provide a space for reflection and gratitude. Patients and caregivers may gain a renewed appreciation for the love and support they
receive, which can positively impact their relationships.
Ed said, "One of the best features is you can convert the entire journal with photos and comments into a pdf file. I have that file and refer to it for dates and memories."
CaringBridge is more than just a website; it's a lifeline for patients and caregivers facing challenging health circumstances. By empowering communication, fostering emotional support, and strengthening relationships, it plays a vital role in improving the overall well-being of those navigating difficult health journeys. As technology continues to shape our lives, CaringBridge stands as an excellent example of how digital platforms can be harnessed to create positive and meaningful connections in times of need.
When asked if Ed found any other resources helpful throughout his journey, he replied by saying, "The Head for the Cure Caregivers Support group. They became my family and still are as I still look forward to and attend our monthly calls. You are with others who know what it is like. I contact a couple of members outside of the call and we have become trusting friends. You learn how to deal with different things like a portable wash basin to wash your spouse's hair. But most of all it is a SUPPORT group."
For any patients going through a brain tumor diagnosis, join our Patient Perspectives support group on the first Thursday of every month at 6 PM CT on Zoom. Our Caregiver Conversations group is for any caregivers where their loved one is going through a brain tumor diagnosis and meets the second Thursday of every month at 6 PM CT on Zoom.