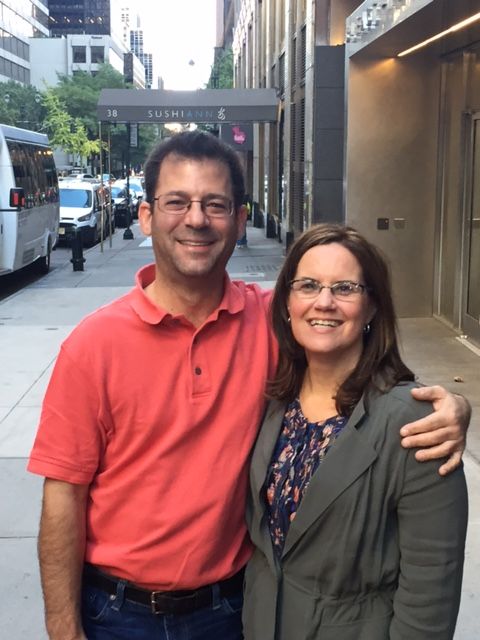 Written by Lisa L., Brains for the Cure Caregiver Ambassador
I was thrown into the role of caregiver when my husband, Jon, was diagnosed with a glioblastoma. I took on the responsibilities whole-heartedly because had the situation been reversed, I know he would have done the very same for me.  I wanted to be the best care partner possible, but that was hampered because it was impossible to make caregiving routine. Caring for a cancer patient is complicated and unpredictable. 
I'm not a social worker; I am sharing what I did to help myself during my husband's nine-month battle with brain cancer. I hope you find a helpful nugget to help you through this difficult time.
To keep ourselves mentally sane, Jon and I talked a lot, expressing our feelings and fears. We leaned on each other, wrote in our journals, and shared our concerns with our therapists. Jon was my emotional rock and vice versa. We grieved together because we knew of the inevitable, yet there were no secrets nor regrets.
For my peace of mind, I hired an aide to be with Jon while I was at work. To stay rested I took long naps on the weekends when I knew Jon and I were home safe and sound together. If a nap meant that I didn't have time to cook, then I did take out or I warmed a meal that a friend lovingly provided. When I cooked, I kept our meals simple. 
People want to help. Take them up on it. Give a friend a list for the supermarket. Let your mother-in-law do the laundry. Our friends researched clinical trials and new GBM treatments. One offered to take notes when we were meeting with specialists. An alternative is to record sessions with doctors and let a friend transcribe. You don't have to do it all.
Be good to yourself. Connect with a friend for lunch or get a manicure. If you need a break from driving, but don't want to miss a family birthday party, carpool with another guest. Applying for handicap parking privileges was was a big help to me. And don't sweat the small stuff. When the house got messy, I looked the other way. 
There are only so many hours in the day. When I couldn't find time to get to the gym, I cancelled my membership. I tried to use my time wisely.  When I wasn't enjoying the book I was reading, I set it aside and took a bubble bath. During this difficult time, find ways to forget about cancer. For me, having friends over to watch football or play games was a wonderful diversion. Plus, I didn't have to drive anywhere, and I could enjoy a glass of wine. 
It's vitally important to take care of yourself. You can't be at your best if you are in a constant state of stress and exhaustion. Figure out what you need to make yourself feel better and take the time to give that to yourself.  Jon encouraged me to relax and recharge, and in turn, I was better able to focus on him, especially when he needed it most.
If you'd like to reach out to Lisa or learn more about her experiences, visit our Caregiver Ambassadors page.