Advocacy, Education, and Connection For the Brain Tumor Community
Advice, stories, and resources, in collaboration with doctors, patients, and caregivers for every step of the brain tumor journey. A program of the Head for the Cure Foundation.
Brain cancer is a devastating diagnosis that profoundly affects patients and their families. The treatment of brain cancer typically involves a combination of surgery, chemotherapy,
Read More »
A $2.8 million grant from the National Cancer Institute will help researchers overcome challenges in using engineered T cells to treat glioblastoma. Chimeric Antigen Receptor
Read More »
Anna right after diagnosis at age 12. Anna's first HFTC 5K run/walk at age 14. Another 5K run/walk at age 15. Graduating high school at
Read More »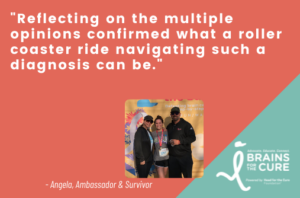 Written by Angela – Brains for the Cure Ambassador and DNET Survivor When hearing the words, 'You have a brain tumor', your mind begins to wander in multiple places; How long do I have? What does this mean? Is it even true? Are you sure? Could it be anything else? While
Read More »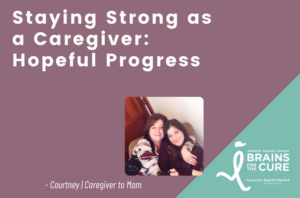 Written by: Courtney Benisch | Senior Manager of Partnerships and Community Relations for Head for the Cure and Brains for the Cure Ambassador I was able to attend
Read More »
Brains for the Cure has hundreds of stories from people in the brain tumor community, as well as resources, advice, and support. Start here to explore from the patient's point of view, or here for the perspective of caregivers and loved ones.